Optical and mechanical design
With a staff mostly composed of engineers, doctors, qualified technician, and our extended experience in opto-mechanical design (system design & tolerancing, WFE calculation), mechanical design and simulation with Finite element (analysis of vibration, shock, radiation, thermal environment), we will be able to provide the best solution and assist you in the definition of your project.

More than 30 years of experience
Over the years, THALES SESO has developed a strong experience in both optical and mechanical analyses.
Strong engineering team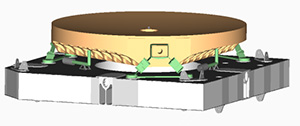 With 30% of the team being engineers, TSESO can conceive a large variety of opto-mechanical systems.
Our optical team works with Zemax™ for the optical design, tolerancing and simulation of WFE.
Our mechanical team works with Pro-E for the mechanical design and FEMAP-NASTRAN for the finite element analysis. It's used for vibration, shock, static, thermo-elastic, radiation and opto-mechanical analysis.
Our coating experts use the software "Essential McLeod" to design the coating matching your specifications.
Highly customised products
The combination of our highly trained staff and Thales SESO previous experiences on diverse and highly demanding projects gives us the flexibility to adapt to virtually any customer need.