Assembly-Integration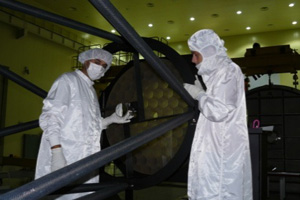 We can integrate complex opto-mechanical systems for terrestrial, spatial and UHV applications. Thales SESO worked on some of the most demanding project concerning precision and stability. Many processes and technologies were developed to meet this demand, including our ISO 5 and 7 clean rooms, as well as the innovations on optical contacting, silicate bounding, cementing.
Clean rooms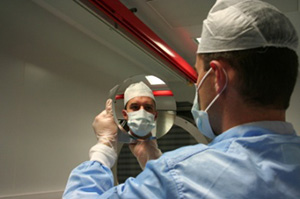 The coating, integration and test of the mirrors are done in clean rooms. Our cleans rooms are either ISO 5 (class 100) or ISO 7 (class 10 000).
High precision
Thales SESO is capable of integrating lenses in mechanical parts with very high precision:
- Centering < 5um
- Air thickness < 5 um
- Tilt <1"
Innovation
Thanks to an active research department, TSESO has developed advanced technologies such as:
- Optical Contacting (Positioning precision < 0.01 mm)
- Silicate bounding (similar performance as single piece)
- Cementing (+/- 2µm along 3 axes
Tools
We develop our own tools to meet the customer specifications.
The integration division uses:
- Interferometers
- Collimators
- 2D/3D Measurement imager
- Air-cushioned and anti-seismic tables
Installation on site
If required Thales SESO employees can come to your facility and setup the equipment.