Capabilities
ALL PROCESSES INTEGRATED AT THALES SESO
These processes range from the optical and mechanical design to the manufacturing of the optics (including lightweighting), coating, assembly, integration and testing before delivery to the customer. The integration of all the processes makes Thales SESO one of the most efficient and cost effective solution for the manufacturing of challenging optical.
---
OPTICAL & MECHANICAL DESIGN
With a staff mostly composed of engineers, doctors, qualified technician, and our extended experience in opto-mechanical design (system design & tolerancing, WFE calculation), mechanical design and simulation with Finite element (analysis of vibration, shock, radiation, thermal environment), we will be able to provide the best solution and assist you in the definition of your project [...]
Read more
---
MILING/GRINDING
It brings the material from the original raw size to the final shape with precision in the µm. Thales SESO has an exceptionally high production capacity with more than 15 milling machines and a maximum diameter of 2m. Most of the machines are computer controlled. A new investment also takes advantage of ultra-sound to improve our process speed.
---
LIGHTWEIGHTING
To solve the weight problem of the large mirrors, we have developed processes to decrease it up to 85% (while keeping the required stiffness) by removing material from the back of the mirror. This requires a thorough analysis of the mirror behaviour under the foreseen environment conditions to design the lightweighting pattern and ultra-precise tools to "carve" the walls that could be as thin as 2mm.
---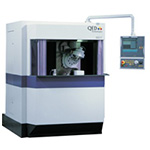 POLISHING
Polishing is the main strength of Thales SESO. We can polish a large variety of materials to almost any shape and size with the most demanding precision. We keep improving thanks to heavy investments and innovations [...]
Read More
---
OPTICAL COATING
We operate 5 vacuum coating chambers – 3 by thermal and electron beam gun evaporation and 2 by magnetron sputtering (max 2 meters). Thales SESO can satisfy the most demanding customers with our large variety of coatings: Reflective for UV/VIS/IR (space qualified), reflective for X-ray, anti-reflective, high power laser coatings [...]
Read More
---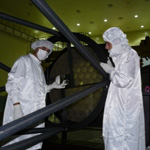 ASSEMBLY, INTEGRATION
We can integrate complex opto-mechanical systems for terrestrial, spatial and UHV applications. Thales SESO worked on some of the most demanding project concerning precision and stability. A lot of processes and technologies were developed to meet this demand, including our ISO 5 and 7clean rooms, the innovations on optical contacting, silicate bounding, cementing [...]
Read More
---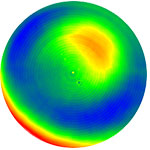 TEST & CONTROLS
The high precision testing of optical components has always been a key expertise of Thales SESO. With our continuous improvements in term of Wave Front Error and roughness results, we need to lower the resolution of our instruments to make sure all the products we deliver are conform to the customer requirements. [...]
Read More
---

QUALITY ASSURANCE
Thales SESO has an ISO 9001:2008 facility. Our quality department is in charge of the quality assurance (norms), product assurance (project monitoring – we can apply the ECSS norm if required), and Quality control (testing on products). This department is directly attached to the president to insure its independence. [...]
Read More